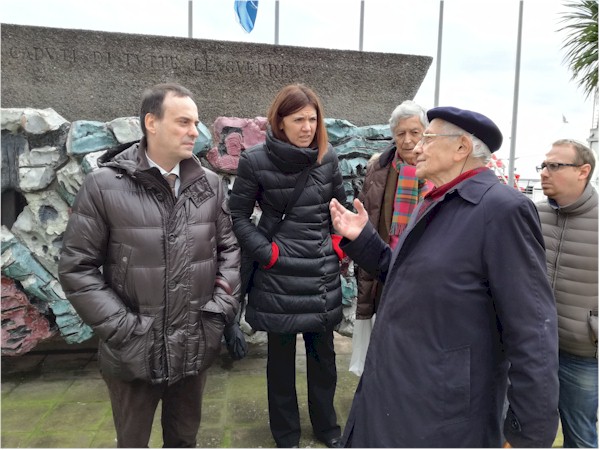 Scientific committee's inspection  to the War Memorial Monument of Leoncillo Leonardi. From left: Leo Lecci , Paola Valenti, Antonio Sgamellotti, Enrico Crispolti, Federico Zanoner, year 2017.
SCIENTIFIC COMMITTEE
Commission in charge 2021
Giulia Basilissi
Conservator-restorer Functionary at the Tuscany Regional Direction of Museum. Specialized at the Opificio delle Pietre Dure in ceramic, glass, ceroplasty, metals and alloys materials and artifacts.

Andrea Canziani
Architect of the Ministry of Culture at the Soprintendenza of Liguria. Professor in Restoration at the Polythecnic School in Milan. Specialized in the conservation of modern and contemporary architecture.

Paola Valenti
Associate Professor in History of Contemporary Art at the University of Genoa. Specialized in the relations between modern and contemporary arts and architecture.
---
SCIENTIFIC COMMITTEE
Commission in charge august 2016 - august 2019

Alberto Beniscelli
Italian Literature senior professor,  DIRAAS, University of Genoa

Enrico Crispolti
History of Contemporary Art  emeritus senior professor  , University of Siena
Leo Lecci
History of Contemporary Art,researcher,  University of Genoa

Lauro Magnani
History of Modern Art, senior professor, DIRAAS, University of Genoa

Antonio Sgamellotti
Lincei Academic, Inorganic Chemistry, senior professor, University of Perugia

Paola Valenti
History of Contemporary Art researcher, DIRAAS, University of Genoa

Federico Zanoner
900's archives curator, MART, Rovereto
---