ABOVE AND INSIDE THE PROMENADE
THE WAR MEMORIAL OF LEONCILLO
Before the Artists' Promenade was built and inaugurated in 1963, the historic fishermen square was designated as the site of the War Memorial of all wars, made by Leoncillo Leonardi (Spoleto 1914-Rome 1968).

In 1954, the city hall of Albissola Marina announced a national competition for the war memorial, which was supposed to be made of ceramic and designed to be placed on the promenade, a few meters from the beach. Leoncillo won the competition in 1955 and made the ceramic sculptures that composed the memorial between 1956 and 1957.

This represents the Fallen (mountain side), and the group of Survivors, (sea side), divided by a block of chiseled concrete.

The monument, anti-rhetorical and divided between expressionist, neo-cubist and informal language, is innovative for its unprecedented dialogue with the urban space, and is the only Leoncillo's public art piece, still existing in Italy. It was inaugurated in January 1958.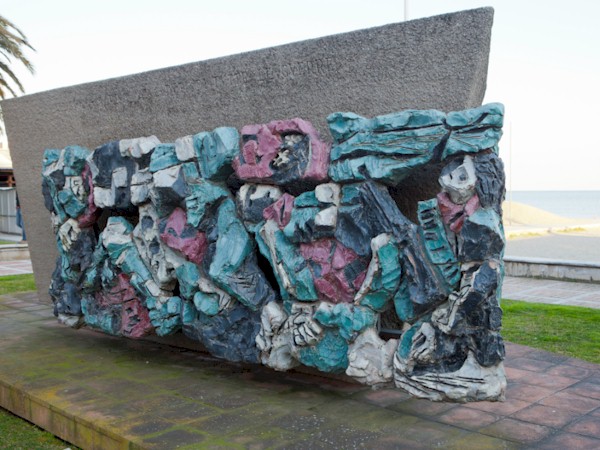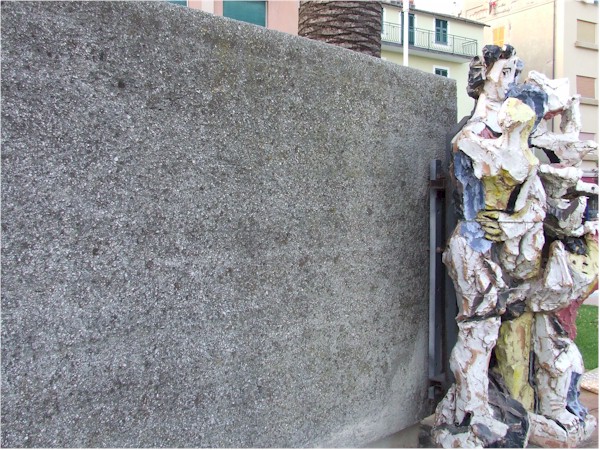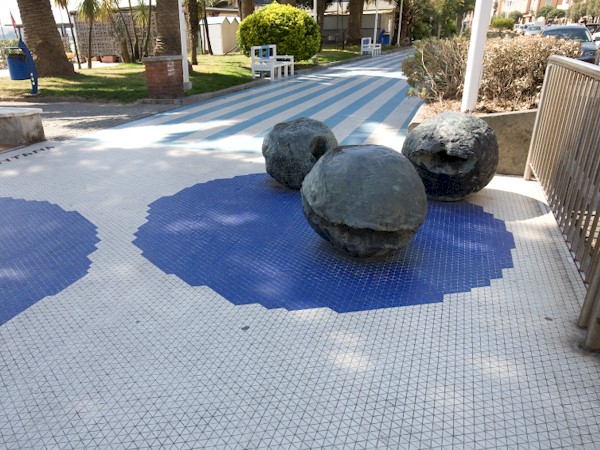 THE NATURE OF LUCIO FONTANA
The three bronze sculptures were donated by Fontana to the town of Albissola Marina, to be placed on the mosaic floor on the Artists' Promenade.

The mosaic (Spatial Concept) and the Nature of Fontana are located in front of the very central Piazza del Popolo, where artists used to meet at Bar Testa.

Nature were born as large spheroidal sculptures in clay , made by the artist in the CEAS factory of Albissola Marina as of 1959, and expressed the generating and germinal energy of nature.

THE ARTISTS' UNDERPASSAGE
In the early 1950s, a pedestrian underpass was built, allowing the safe crossing of Via Aurelia near Piazza del Popolo, the village's main square.

Starting in 1954, the city hall began to allocate a series of ceramic works to the walls of this infrastructure, making it a real modern and contemporary art gallery in open air.

The first two ceramic panels by Luigi Caldanzano (1921-2008) and Sergio Dangelo (1932- ) were purchased by the City Hall, in the 1954 Albisola Ceramics national award competition. In the early 1990s, due to poor conservation conditions, it was necessary to replace Dangelo's work with his more recent art piece, specially made by the same artist: Amore Celeste (1996).

In 2000, the two great reliefs of Ansgar Elde (1933-2000) - Ugole and Avventori: danza - and Carlos Carlé (1928-2015) - I codici della materia (The codes of matter) -, completed the decoration of the underpassage.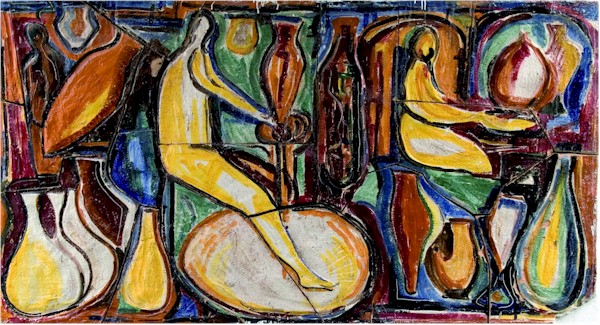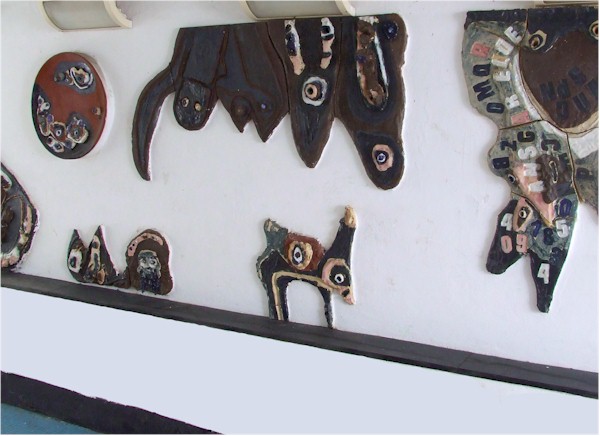 TULLIO D'ALBISOLA SQUARE
On the eastern side, the Artists' Promenade ends with a square named after Tullio D'Albisola, in 1990. In this area you can find many urban sculptures.
- the great opera Tuberie (early '60s), made of steel by Antonio Siri (1913-1991) as a tribute to futurist poems by Farfa (1881-1964).
- the monumental ceramic bench (42 m) Gioie e delizie di Galatea (2007), made by Ignazio Moncada (1932-2012) at Ernan Design Studio.
- the bronze bust of Giuseppe Mazzini (1970) by Eliseo salino (1919-1999).
- the bronze gorilla Il Re (2001) by Franco bratta (1936-2013).
- Forma Vitale (2001), marble artwork by Luigi Canepa (1941- ).
- Colonna (2007) in ceramic by Giovanni Tinti (1917-2012)