ARTISTS' PROMENADE
This incredible urban artwork was inaugurated on 10 August 1963: almost one kilometer boardwalk paved with mosaics designed by twenty national and international artists to color the town's promenade.

The event represented the culmination of a cultural season that, since the '30s with the Futurism, saw Albissola Marina becoming a priviledged destination for artists, literati, collectionists and gallerists from around the world.
In such context, two exceptional municipal council members, Adolfo Testa and the artist Aligi Sassu, decided to build the new promenade, conceived as a public walkable artwork.

At the beginning of the year 2000, due to the physical deterioration of the mosaics, these were redone using new Bisazza's ceramic materials. In that occassion, the City Hall, added the twenty-first mosaic by Asger Jorn, not presented in the original artwork, and subsequently the artwork series found a continuation with four new mosaics by Giorgio Bonelli, Aurelio Caminati, Edoardo Arroyo and Guy de Rougemont.

These last two artists developed other two urban design projects: the white and blue bench with the A of Albisola (Arroyo) and the color plan for the street lights (Rougemont). In 1990 and 2005 two other mosaics where created with the antique ligurian technic of "risseu" (black and white river pebbles) to honor Tulio d'Albisola and Torido Mazzotti.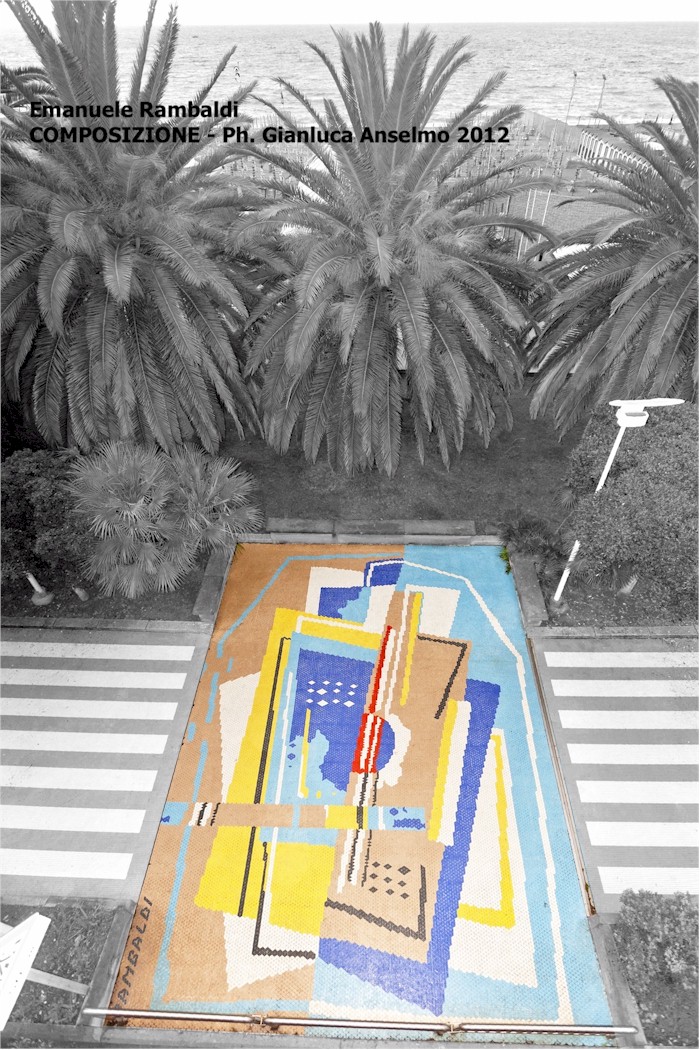 The Artists
Today, the Artist's Promenade is composed of twenty-five ceramic mosaics by Eduardo Arroyo, Giorgio Bonelli, Luigi Caldanzano, Aurelio Caminati, Giuseppe Capogrossi, Roberto Crippa, Guy De Rougemont, Giambattista De Salvo, Agenore Fabbri, Lucio Fontana, Antonio Franchini, Mario Gambetta, Franco Garelli, Asger Jorn, Wifredo Lam, Emanuele Luzzati, Mario Porcù, Federico Quatrini, Emanuele Rambaldi, Mario Rossello, Antonio Sabatelli, Eliseo Salino, Antonio Siri, Nino Strada.
Find out more about the individual panels and their history